Have you ever considered building a flagstone waterfall on your property? Create a talking point by installing one that will make you the envy of your family, friends, and neighbours. We've compiled a list of 5 great flagstone waterfalls that we found on the internet to provide you with inspiration. Contact us at Royal Masonry for ideas about how you can use masonry to improve your property's visual appeal.
Why Build a Waterfall in Your Yard?
Waterfalls are a fascinating addition to properties. They draw the eye, provide subtle background noise, provide you with a great talking point, and can be designed to enhance existing ponds or create new ones. Excited yet? If not, perhaps our collection of great waterfall ideas from around the internet will get your creative juices flowing.
Waterfall Mini Pool
www.hometalk.com
Do you have a small yard? Are you interested in creating a spa that is memorable and functional? Consider this idea from www.hometalk.com. It's a spa with a waterfall, set in a patio area. This stunning idea uses a combination of stone and blocks to create an outdoor environment that makes a splash.
Cascading Waterfall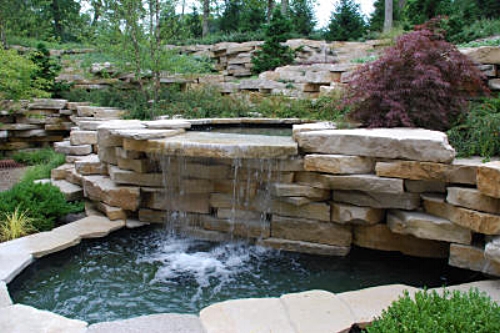 www.stonecentreisle.com
This is a great look for a large, sloping yard with water. Use local flagstone to create your own waterfall and enjoy the astonished looks from your guests when they drop by. At Royal Masonry, we can help you think through what type of waterfall you would like to see materialize on your property.
Waterfall Wall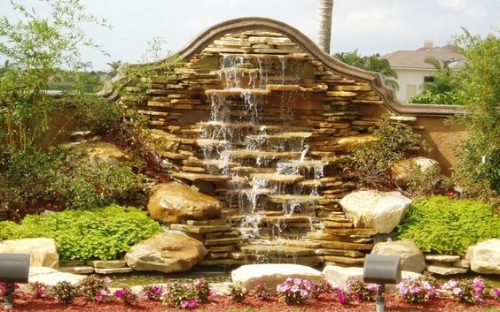 Waterfalls in Florida
For a more structured look check out this attractive wall with a waterfall built in. Dream up your own design and we will assist you to bring it to reality. Flagstone makes an excellent choice for waterfalls due to its natural look, durability, and relatively easy installation.
Rustic Waterfall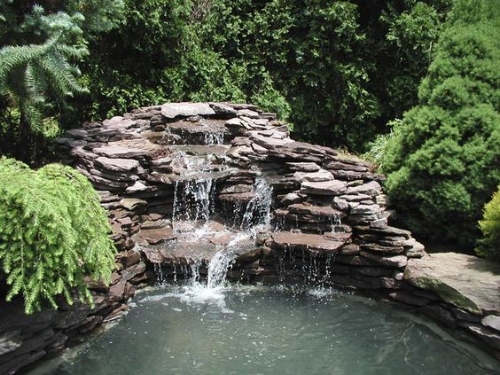 jerseyshorepondscapes.com .
For a truly rustic look that is sure to impress, consider creating a waterfall like this one from jerseyshorepondscapes.com. This look is a great fit for many Canadian properties due to its rugged and natural appearance. What would a project similar to this look like in your yard? Contact us at Royal Masonry to find out what it would take to make this work in your yard.
Wall of Water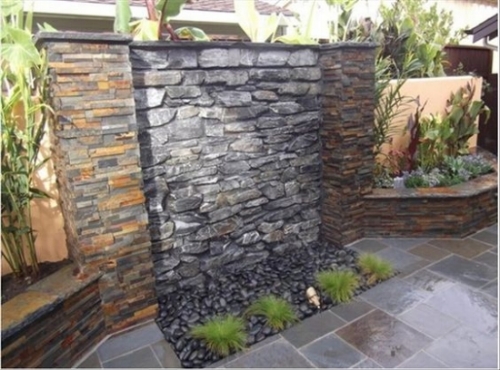 www.pinterest.com
If you are short of space but just can't resist the sound of trickling water, consider a wall of water like this one. Blend various types of stone and brick to create an interesting look with lots of visual appeal. Build it at one end of the patio for a talking point. Relatively easy to build, our team of experts can help you install a project like this in a few days or less.
Royal Masonry
Why choose a professional stonemason to install your flagstone waterfall? As do most experts in their field, stonemasons acquire their specific skill set over years of on the job training, apprenticeship, and good old-fashioned hard work.  Royal Masonry stonemasons draw on their wealth of knowledge to provide professional service every time. Most tasks can be completed in a few days or a few hours or less and last for years.