Scroll down through these 5 great garden retaining wall ideas, and let your imagination run riot as you think of ways you could design similar retaining walls! Our experts at Royal Masonry have compiled this list of retaining walls to help you be inspired. Whether you are considering building a garden retaining wall, or another brick project,  we can help you through the process. Contact us for help.
1   Pool Project
Do you have aspirations to build a spectacular pool, but no idea how to incorporate it into your sloping backyard? Use this pool from www.minimalisti.com as your inspiration. With a flagstone retaining wall, this pool offers all the advantages of a poolside patio, yet blends with a steeply sloping property.
                                      www.minimalisti.com
2   Terraced Retaining Wall
Check out this terraced retaining wall that makes a work of art out of a hillside. The owners have created an awe-inspiring vision by blending trees, walls, and gardens in one flowing movement. If you have an awkward yard you too can rise to the challenge and design something that everyone will remember. This clever idea comes from www.homestratosphere.com.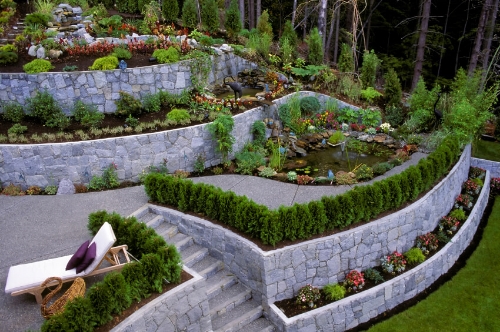 www.homestratosphere com
3   Keeping It Simple
Use retaining walls to create planters in any shape that you want, or that the shape of your property suggests. Here we see simple, curved retaining walls that are topped off by a delightful display of petunias. Use combinations of plants, flowers, and walls to create eye-catching visual effects throughout your property. This is another great idea from www.homestratosphere.com.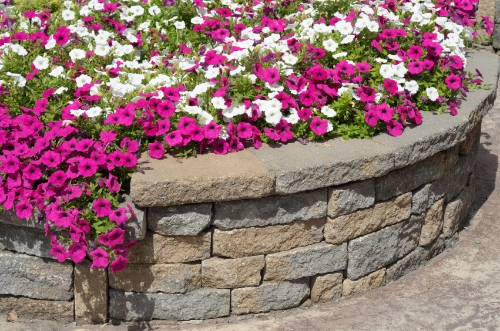 www.stratosphere.com
4   Height and Depth
Create interest by varying the height and depth of your retaining walls. This wall from www.sunset.com offers just that, creating vertical and horizontal visual appeal as well as a tiered approach to the rows of retaining walls. Consider allowing the flowers to spill over the edges of the wall for a timeless country rock garden style.
                                                  www.sunset.com
5   Dry-Stacked Stone Wall Attraction
Have you ever considered a dry-stacked stone wall for a charming old countryside look? Here's a beautiful example from www.bhg.com that will leave you longing for years gone by. Notice how the owners have cleverly combined the random appearance of the dry-stack wall with the regulated pattern of the brick patio. A wall like this makes a sensational focal point for any contemporary garden.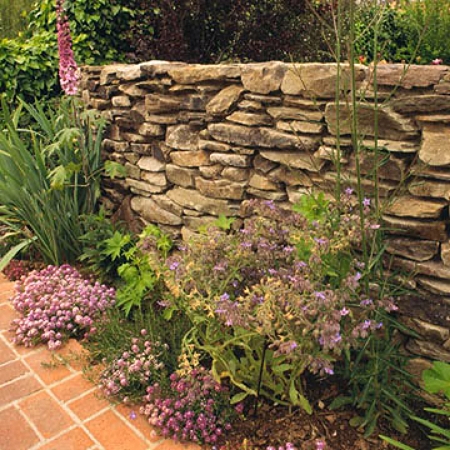 At Royal Masonry
At Royal Masonry, our customers are our number one priority. We take our work seriously, and with each of our jobs, we take a professional approach, standing behind every project we carry out. Project completion times will vary depending on what is required. Stone masonry is a time-honoured profession.  Contact the experts  at Royal Masonry.