In this post, we will take a look at 5 great ideas for stamped concrete patios. These ideas are intended to spark your imagination by giving you some options that you may be able to adapt to suit your specific property. Contact us if you have a patio project in mind that requires a professional stonemason.
Stamped concrete is gaining in popularity as a substitute for flagstone, marble, brick and other materials. The product has a number of advantages over traditional materials. These advantages include the following:
Extreme versatility
Exceptional durability
Outstanding visual appeal
Low maintenance costs
The following images give but a small selection of ideas as to how to use this product.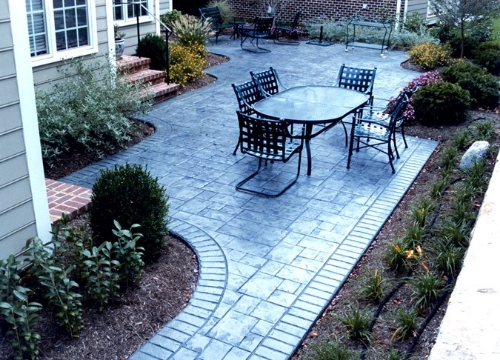 www.concretenetwork.com
1.   Slate Patio Brick Appearance
Check out this concrete patio with timeless appeal. Intended to look like slate patio bricks, this stamped concrete patio is a terrific outdoor patio choice. Concrete is hardwearing, adaptable, and inexpensive. Contact us if you are exploring the idea of a concrete patio.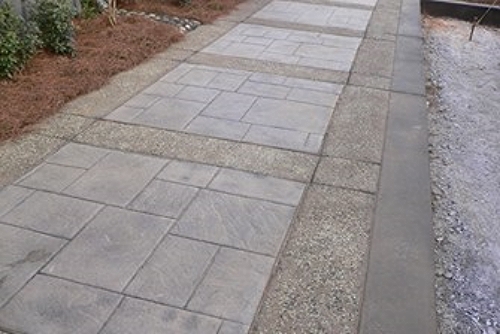 www.landscapingnetwork.com
2.   Stamped Concrete Walkway
In the above picture, stamped concrete has been used to create a walkway with the appearance of cut flagstone. With its bold, direct appearance, this walkway would be a stunning addition to any large yard. Stamped concrete has numerous advantages including its low maintenance costs and flexible design ideas. We recommend that stamped concrete be installed by a professional contractor.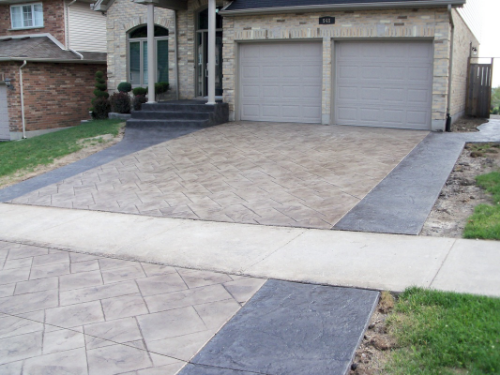 www.valleystampedconcrete.ca
3.   Stamped Concrete Driveway
Are you searching for a new look for your driveway? Consider stamped concrete. This example demonstrates how impressive concrete can appear when using stamped concrete to create the appearance of stone. The wide double driveway is a perfect setting for this unique product.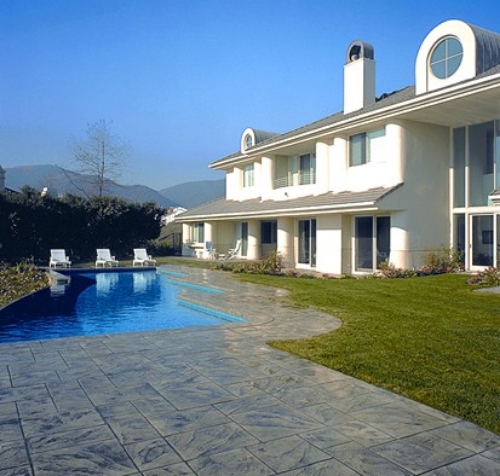 www.concretenetwork.com
4.   Stamped Concrete Pool Patio
Stamped concrete makes an excellent choice for a swimming pool deck. The dark grey marble-look concrete in this example sets off the blue colour of the pool and contrasts effectively with the white walls of the home. Stamped concrete makes a fantastic canvas for creating the unique effect that you desire for your pool and property. Contact us for more information.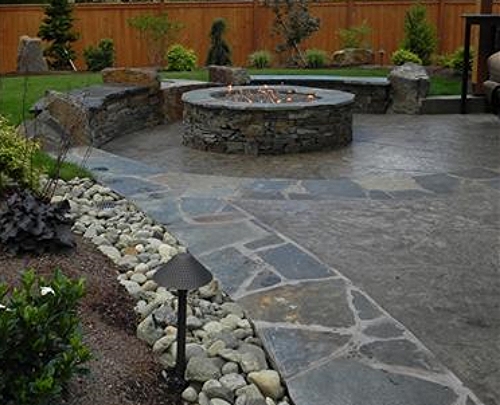 www.landscapingnetwork.com
5.   Stamped Concrete Flagstone Effect
Sometimes it is difficult to choose between two options. With stamped concrete you don't have to choose. Have a look at this example that provides both a coloured concrete patio and a flagstone border appearance in one! Besides being exceptionally versatile, stamped concrete can withstand the extreme weather conditions experienced in Canada.
Royal Masonry
Our experienced and capable team of professional stonemasons  are masters at building exceptional patios. We pride ourselves on providing our customers with the best workmanship possible and operate in the Kitchener – Waterloo area.  We believe in getting the job done right the first time and providing you with the royal treatment! Most projects can be completed in a few days or even a few hours or less.  Our renowned, quality service is guaranteed, and we always bring our professional approach to every job we tackle.