Take a look at our 5 great patio design ideas for restaurants. If you are or are planning to be a restaurant owner, and are considering installing or renovating a patio,  contact us today. At Royal Masonry, we specialize in commercial restoration projects in addition to new construction.
1. Large Stone Slabs
Imagine large stone slabs as the base for your restaurant patio. That's what www.dekainteriors.com envisages with this unique patio restaurant idea. Whatever idea you may have for a restaurant patio, look no further than Royal Masonry to make it a reality.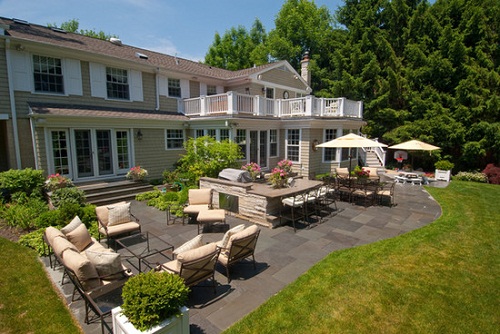 www.dekainteriors.com
2. Warm Brick Patio
Here's an outdoor dining design from www.restaurant-hospitality.com. Featured is Bistro 60 in California. The warm brick patio provides a great base for the rich, deep brown tables and chairs. There are many brick patio ideas available. Read our blog entitled "Masonry Patio Services Kitchener-Waterloo, Cambridge, and Guelph" for more ideas.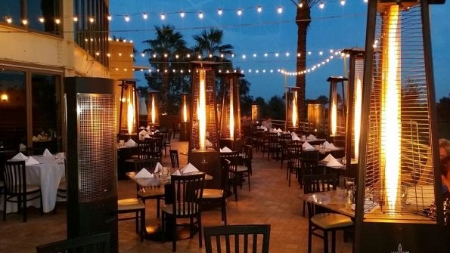 www.restaurant-hospitality.com
3. Stone and Wood
This cozy outdoor space from  www.villagevoice.com features a combination of brick patio stones and a wooden raised deck. This provides an intimate, relaxed dining experience despite its location in the heart of NYC.
www.villagevoice.com
4. Concrete Patio
Below is a simple concrete patio that, nevertheless, provides an uncomplicated outdoor dining experience. Consider adding stamped concrete for a more attractive patio. Read about stamped concrete in our blog entitled, "5 Great Ideas For Stamped Concrete Patios."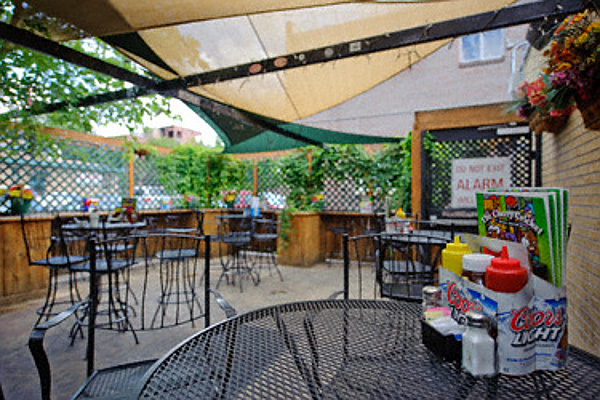 www.foodservicewarehouse.com
5. Patio Blocks
Take a look at this idea from www.thrillist.com. For an attractive, romantic evening dining experience, this restaurant features patio blocks as the foundation for a variety of seating and table styles. Read our post entitled "Flagstone vs Stamped Concrete vs Patio-Blocks vs Wood Patios" for more ideas suitable for home or restaurant patios.
www.thrillist.com
Royal Masonry
At Royal Masonry, our team of professional stonemasons provides the best workmanship possible while getting the job done right the first time. Top quality service is guaranteed and we bring our professional approach to every job. If you are looking for a unique and well-constructed restaurant patio design, then rest assured that we will not be satisfied until you are! Prices will vary depending on what is requested. We operate in the Kitchener- Waterloo area, so don't hesitate to contact us if you have any questions regarding restaurant patios.