Here are 6 great ideas for how to use exterior brick walls to enhance your property. Brick walls can be used as backdrops for waterfalls, sitting walls, dividing walls, retaining walls, border walls, and more. The walls have a variety of purposes and are intended to assist you in generating ideas for your home.  Contact us at Royal Masonry if you are considering an exterior brick wall project for your property.
1    A Wall of Water
Here's a great waterfall  idea from www.hgtv.com. Create a brick or stone wall as a backdrop for a waterfall! A wall of water like this will create a marvellous focal point for your backyard. Place it at the corner of a patio, hide it in a corner to be discovered on a stroll around the property, build it in the centre of your patio to be viewed from the interior of the home as well as the patio – the ideas are only limited by your imagination.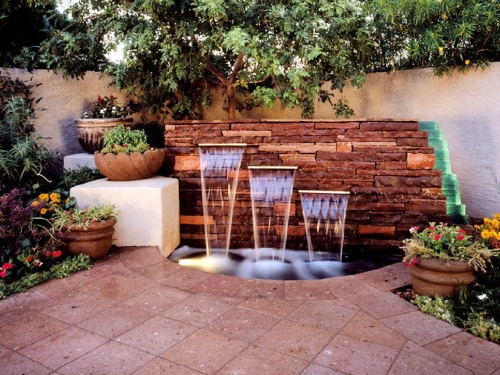 www.hgtv.com
2    Retaining Wall With Flowers
Control the soil in your yard with the use of brick retaining walls. Retaining walls hold back soil and allow you to control the uneven sections of your property. Use flowers to enhance the natural beauty of your property and complement the stark, square edges of the walls. This idea from www.landscapee.com is simple but effective.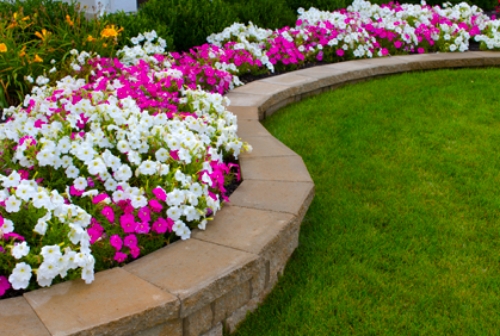 www.landscapee.com
4    Brick Dividing Wall
Build a dividing wall like this one from www.vsgram.com. Delineate your property clearly with this traditional brick wall. You will create more privacy for yourself and your neighbour while also making an emphatic, stylish statement. Hire a professional stone masonry expert to ensure that the project is expertly carried out according to code.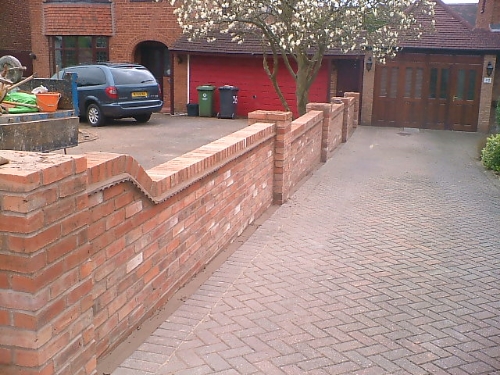 www.vsgram.com
5    Garden Wall
Check out this Garden Wall with a fountain and flagstone path. Notice how the square, blocked, traditional wall contrasts with the almost organic flow of the stone path. The combination is beautifully set off with the range of varied plants. A wall like this would be a stunning highlight in any property. The image comes from www.ultimatecristoph.com.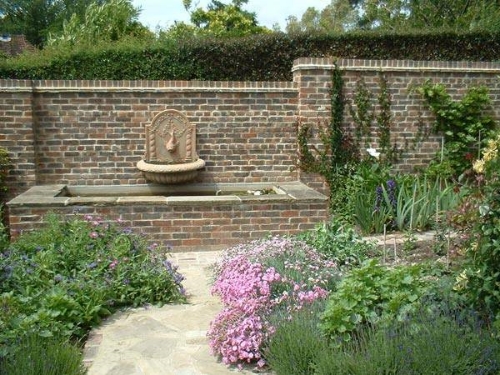 www.ultimatecristoph.com .
6    Sitting wall
Have you considered adding a "sitting wall" to your property? This low brick wall is attractive and functional too! Use it as a sitting area to enjoy conversation or simply drink in the beauty of your backyard with a coffee in hand. The idea comes from www.landscapingnetwork.com. What ideas do you have for a sitting wall? Contact us at Royal Masonry for help in making your dream become a reality.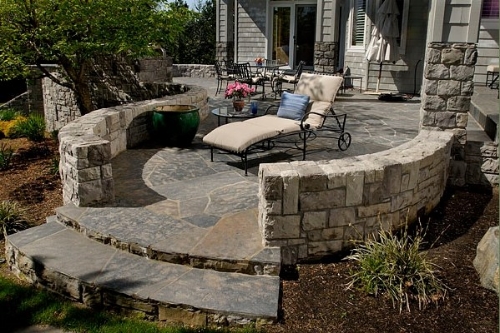 www.landscapingnetwork.com
Royal Masonry
Our team of professional stonemasons has been active in the Kitchener – Waterloo region for many years. Over time, our customers have come to recognize us for our outstanding customer service and professional approach. In addition, we believe in getting the job done right the first time. Project times will vary depending on what is required.  Rest assured that we will not be satisfied until you are! We operate in the Kitchener- Waterloo area, so don't hesitate to contact us if you are planning any type of brick wall for your property.