Garden walls can provide aesthetic appeal, security, places to relax, and more. They can be built with a variety of materials and can vary in size depending on your specific needs. If you see something here that inspires you or have an idea of your own, contact us in the Kitchener – Waterloo, Cambridge, and Guelph areas for an estimate.
Browse through our selection of 7 great brick wall ideas for gardens gathered from around the web.
Number 1 – A Garden Retaining Wall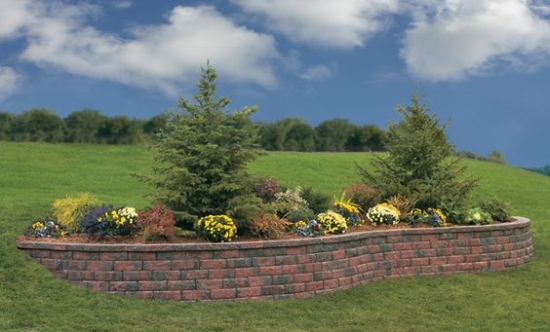 www.pinterest.com
Does either your backyard or your front yard have a significant slope? This retaining wall with a bonus demonstrates how easy it can be to turn a boring green slope of lawn into a spectacular centre piece and talking point. The retaining wall holds back the soil, allowing a level area to be created behind it that the owner has decorated with a dramatic selection of trees, shrubs, and flowers.
Number 2 – Small Wall Stands Tall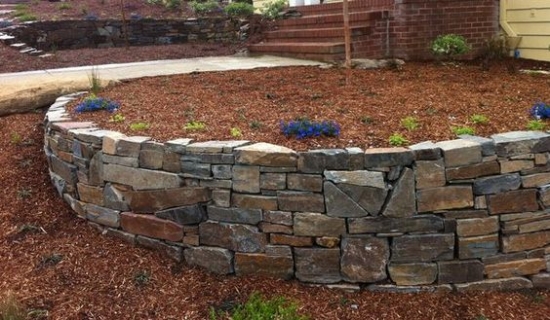 www.pinterest.com
Perhaps you have a small yard with an annoying slope that you can't seem to make use of. A simple, small flagstone retaining wall like this one can control the soil and allow you to show your properties curves off to their best. Use the level area to build a small patio, create a showy flower bed, construct an outdoor kitchen, or enhance it with simple ground cover as pictured.
 Number 3 – Meandering Paths and Multiple Walls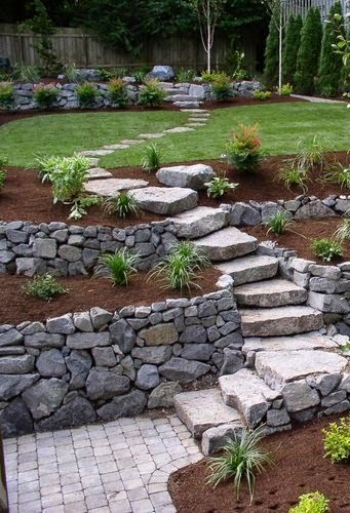 www.pinterest.com
Smile with wonder as you take a wander through your meandering paths and walls. If you have a complicated and frustrating yard with numerous levels and slopes, take heart. Retaining walls can help you to shape and control your property and allow you to create a memorable masterpiece. This one uses stone and pavers to accomplish the owner's purpose.
Number 4 – A Garden Divider that Unites
www.pinterest.com
Divide your yard. Protect your property. Enhance your environment. Whatever you are seeking to accomplish, a professionally built, attractive dry stone wall can give you a sense of accomplishment. Dry stone walls transport you to another era and time as they are one of the oldest forms of construction. Modernize your home with an ancient structure. Create an attraction that unites a man-made project with nature's glory.
Number 5 – Look to the East
www.pinterest.com
Do you have designs on being different? Don't go west, go east and be inspired by Asian style. For a truly unique look in a cramped urban area, use a blend of large exterior walls and inner courtyard walls to create a tranquil area for relaxation and meditation. Add a waterfall as desired and you will feel you have been transported eastward.
Number 6 – Sensational Stone Seating Structure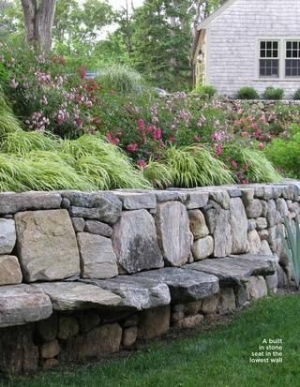 www.pinterest.com
Why stand when you can sit? Surprise your guests with a stunning stone wall that has a built in seating section! There's no need to carry your lawn chair around your property with you! After a stroll around your private domain, simply take a seat and survey the scene! Face the wall either east or west and drink in the beauty of your yard at daybreak or sunset.
Number 7 – Stunning City Haven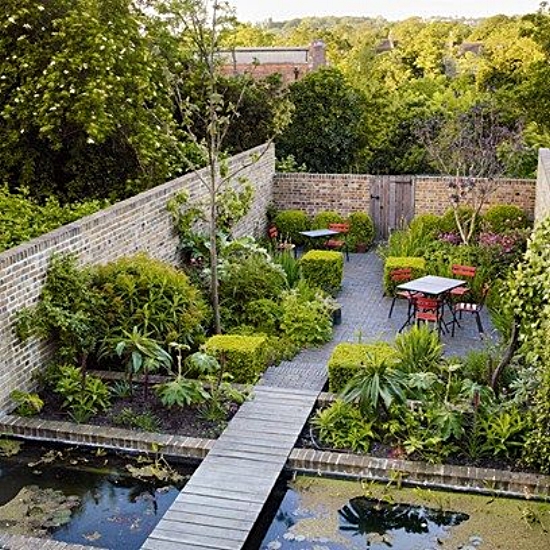 www.pinterest.com
You work in the city. You love the downtown. You don't have much space. Don't worry. Small spaces can be transformed into hidden treasures with walls of wonder. Create a stunning city haven that your friends will adore. Invite them over for a summer evening of relaxation and revel in their response! Yes, you still love life in the city.
Royal Masonry
Royal Masonry consists of a team of professional stonemasons intensely focused on our mission to provide the best workmanship possible. We truly believe in getting the job done right the first time. Our top quality service is guaranteed and we bring our professional approach to every job. If you are looking for satisfaction, then rest assured that we will not be satisfied until you are! We operate in the Kitchener- Waterloo area, so don't hesitate to contact us if you are considering building a garden wall of any type.