We've created a list of some of the top outdoor fireplace designs we could find. From simple designs to elegant and expensive projects, we've got them. After reading this post, you'll be inspired to warm up your patio or backyard with an awesome area to gather around in the evening with your friends and family. If you would like to have a beautiful custom outdoor fireplace constructed in your outdoor space, contact us at Royal Masonry. Our expert stonemasons can craft a unique masterpiece that will warm your hearts, bring your fireplace ideas to life, and add value to your home.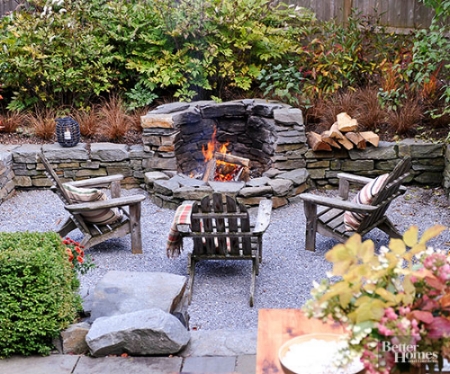 Outdoor fireplace idea found on Pinterest pinned from Better Homes and Garden.
#1. Cottage Feeling In The City
Have a taste of the cottage in your own backyard with this rustic but charming outdoor fire pit. It cleverly merges on either side seamlessly into a retaining wall. The random backdrop of perennials and bushes gives the illusion that you are on the edge of a forest, not in the middle of the city.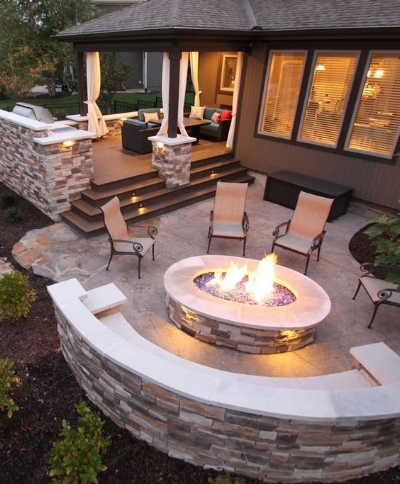 Outdoor fireplace idea taken from Pinterest, pinned from homedecorpictures.us
#2. Enjoy The Curves
This beautiful oval outdoor fireplace is surrounded by a contoured and curvy stone retaining wall. The retaining wall is expertly designed to have a dual function of delineating a barrier between the patio and garden while also providing additional seating for guests wishing to enjoy the fire's warmth on a cool summer evening. Four accent chairs offer the perfect spot for casual conversation.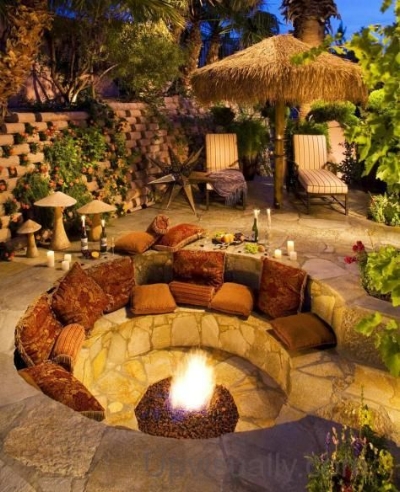 Outdoor Firepit design found on Pinterest, pinned from Woohome
#3. Tahiti Treat
Your Tahiti inspired sunken fire pit will have the neighbours talking. This gorgeous flagstone fireplace is the centrepiece of the tropical looking patio. An eclectic collection of throw pillows add style as well as comfort to the sunken seating area. Add a grass thatched umbrella and lounging chairs and you will think that you are in an island paradise.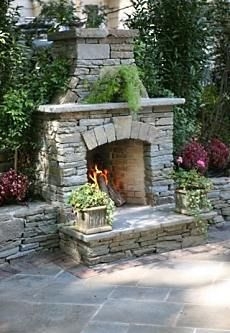 Pinterest image originally pinned from standout-fireplace-designs.com
#4. Heritage Hearth
If you'd like a bit of history in your backyard, why not consider this heritage-inspired outdoor fireplace design reminiscent of an 18th century Colonial kitchen. It's solid and rather imposing presence will make an austere focal point to your outdoor space.
This image was taken from Pintertest originally pinned from Valley City Supply
#5. Terraced Temptation
These terraced retaining walls are the perfect answer to a steep sloped backyard. They cleverly provide additional patio and gardening space. An inconspicuous outdoor fireplace is ingeniously concealed in the centre wall, only to reveal its presence once it is lit. The complementary grey and beige brick tones add a cool and calm atmosphere to this elegant tiered outdoor area.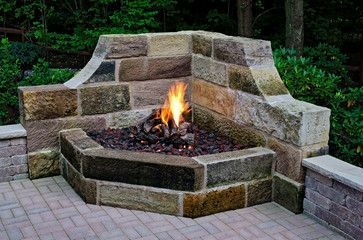 Image found on Pinterest originally pinned from Houzz.com
#6. Cozy Corner
Brighten and heat up a forgotten corner of your patio with this sleek gas-powered fireplace. The careful choice of stone in various colours and sizes add unexpected character to this rather simple but classic design. The smart placement of this fireplace in the corner adds function to this unused space without sacrificing space in the centre of the patio.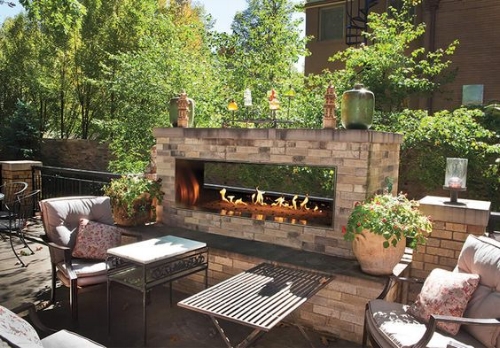 Image taken from Pinterest, originally pinned from Fine's Gas
#7. Peek-A-Boo Pit
This beautiful see-through outdoor fireplace boasts a contemporary linear design. The peek-a-boo brick hearth gives a real indoor, outdoor ambiance. Sit on your patio and enjoy the changing colours of the surrounding landscape throughout the seasons.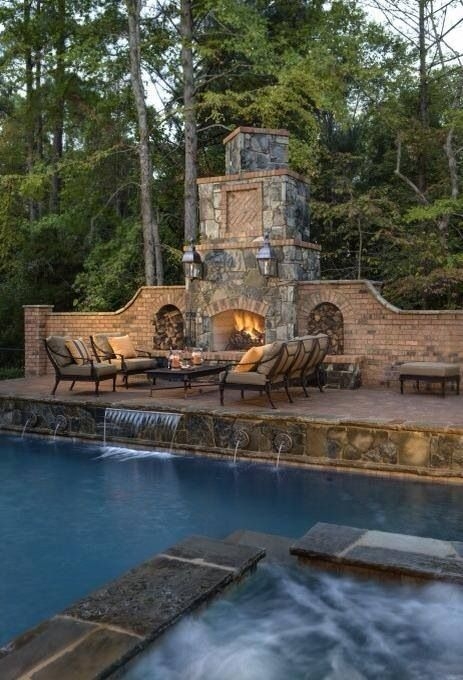 Image found on PInterest, originally pinned from blog.styleestate.com
#8. You Can Always Dream
Take a refreshing dip in your own Romanesque in-ground pool, then dry off and warm up next to the inviting flames of this awe-inspiring stone fireplace. A symmetrical brick wall, complete with handy arched storage spaces to hold your supply of wood for burning, embraces each side of this gorgeous outdoor fireplace.
What Royal Masonry Can Do For You
The team at Royal Masonry is made up of seasoned craftsmen who take pride in creating the highest quality work possible. They will sit down with you, listen to your ideas, and work with you to make any stone project you have in mind, come to life. Contact us today to book your free quote.