Retaining walls are a popular feature in many gardens including those in the Kitchener- Waterloo region. Listed here are a selection of  retaining wall ideas and a reminder of their purpose. Contact the experts at Royal Masonry for any questions you might have about retaining walls.
The Purpose of Retaining Walls
Retaining walls serve a useful purpose in many yards. First, they help to hold soil and other materials in place, making them particularly useful in areas where there are slopes. Secondly, professionally installed, they can provide attractive features for landscaping purposes.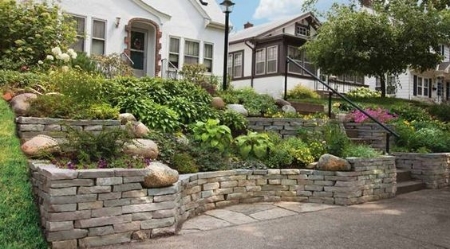 Pinterest – www.scoutmedia.com
Building a Brick Retaining Wall
There are many important factors to consider when building a brick retaining wall. These can include location, foundation, height and thickness, quality and type of brick, mortar, drainage, joints, and more. Some homeowners feel capable of tackling these types of projects, but many prefer to leave it in the hands of a professional. If you are unsure of your capabilities in this regard, then call us for a quote.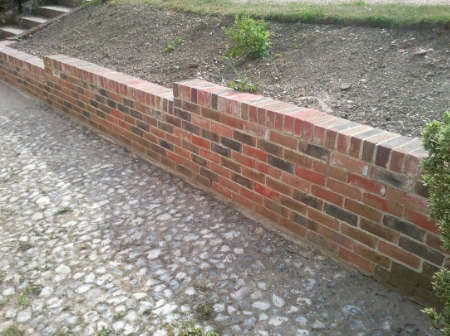 Pinterest – www.interior4home.com
How To Build A Retaining Wall
Take a look at this useful and informative video about what is involved in building a block retaining wall.
3 Types of Retaining Wall
Listed below are three basic types of retaining walls, with a brief explanation of each. The list includes mortar-less retaining walls, cinder block retaining walls, and stackable block retaining walls.
Mortar-less Retaining Wall
As their name implies, mortar-less retaining walls do not use mortar and are a very ancient, traditional type of wall. Popular in many parts of the world, they are perhaps most commonly seen in the landscapes of the British Isles. Many walls in these islands have been in place for hundreds of years. This style requires the skill of stonemasons and they are not suitable for load bearing walls, although ideal for barriers, landscaping features, and simple retaining purposes. Consider a mortar-less retaining wall if you are trying to create a traditional, old world atmosphere.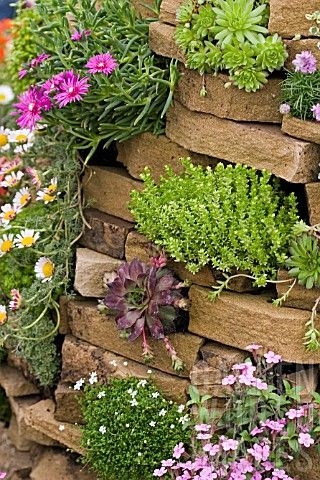 Pinterest from www.blessmyweeds.com
Cinder Block Retaining Walls
These types of walls are durable and relatively inexpensive to build. Cinder or concrete blocks come in a variety of colours and sizes and can add appeal to any property if they are well built. One of the keys is to build a solid foundation and understand that they should not be built above 4 feet (1.2 metres) without additional engineering. Some homeowners may be prepared to tackle this task but, if you are unsure, we are ready to bring our years of experience to the project.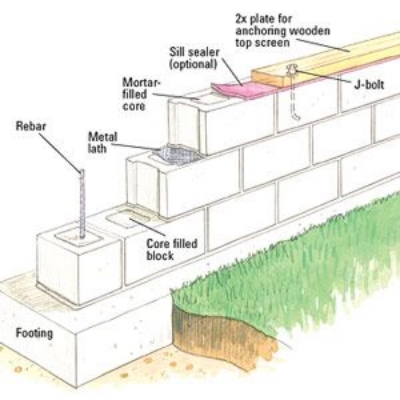 Pinterest – www.diyadvice.com
Stackable Block Walls
Stackable stone walls come in a vast array of sizes shapes and colours and are suitable for many types of retaining walls. Simple projects can be relatively easy to build for the average homeowner, while more complex projects are best left to the professionals. Probably the most flexible and adaptable of the building materials mentioned here, stackable blocks are suitable for low retaining walls, borders, raised flower beds, terraced slopes, and much more.
Pinterest – www.dazzupe.com
Royal Masonry
Why should you hire a professional stonemason to build a retaining wall for your property? Our team are experts at designing and building all types of retaining walls. Like all experts in their field, it takes stonemasons years of on the job training, apprenticeship, and good old-fashioned hard work to acquire their specific skill set.  If you are looking for the best workmanship possible in the Kitchener-Waterloo area, then look no further than the professionals at Royal Masonry. Most brick and stone wall projects can be completed in a few days or even a few hours or less depending on the size, location, and complexity of the work.
Sources:
10 Things You Must Know About Retaining Walls
15 DIY Retaining Walls to Add Value to Your Landscape
Simple Retaining Walls in Clay Brickwork