Flagstones patios and driveways can be attractive options for your property.  We are proud to offer flagstone patio and driveway installations. Included in this post are a number of links to flagstone and driveway options. Call us if you are considering installing a new flagstone patio or driveway.
CLICK HERE TO CONTACT US TODAY
Flagstone Patios and Driveways
Flagstone patios and driveways create unique patterns that leave a lasting impression on your guests and friends. Furthermore, they are durable and practical, handling northern climates well. They provide many colour and style options depending on local availability and budget. The examples below are provided to assist in planning a project for your property.
Accent Your Property
This small, circular patio provides an excellent focal point for this colourful garden. Use this style of patio to contrast with the straight vertical and horizontal lines present in the buildings on your property. Emphasise the circular patio by using a round table.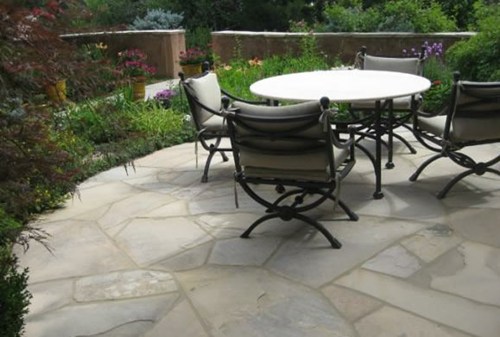 www.thelandscapingnetwork.com
Flagstone Flowing Into the Yard
This flagstone patio seems to be part of the natural beauty of the yard. Using flagstones with a matching colour, the owner has created an unusually shaped patio that seems to blend right in with the property. With the lawn furniture laid out casually, the irregularity of the natural setting is enhanced. At Royal Masonry, we provide flagstone patios, driveways, and walkways too.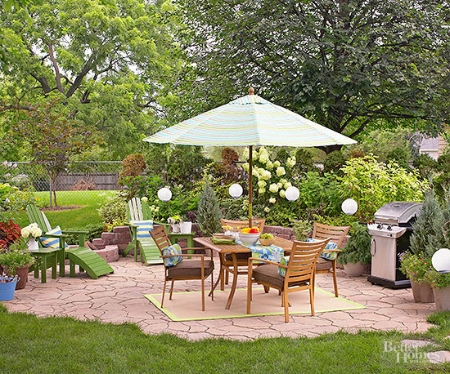 www.bhg.com
Flagstone for Short Driveways
Take a look at this exceptional flagstone driveway from Pinterest.  The grass between the flagstones gives the driveway a slightly overgrown look that is complemented by the vines on the garage doorway. The driveway itself may be short, but it is long on attraction!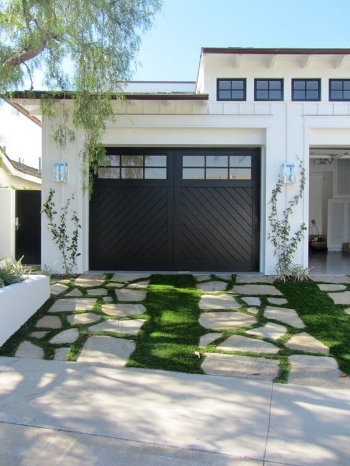 www.pinterest.com
Red Flagstone Patio
Do you have a large area to cover? Do you like the colour red? This absolutely stunning red flagstone walkway and patio are sure to create conversation. Remember that colour and availability varies from region to region, with unusual colours being more expensive due to shipping costs. Read our post entitled, "Flagstone Walkways – Kitchener – Waterloo, Cambridge & Guelph" for more ideas about how to use flagstone.
www.landscapingnetwork.com
Driveways can look dull and boring, but not this one. The very random stones create a jigsaw puzzle pattern and keep the eyes interested. The grass in between the stones adds colour, texture, and a more traditional feel.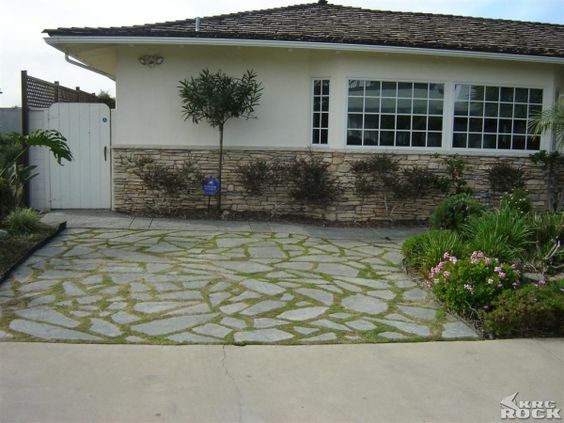 www.pinterest.com
Royal Masonry
Why choose a professional stonemason to install your flagstone patio or driveway? As do most experts in their field, stonemasons acquire their specific skill set over years of on the job training, apprenticeship, and good old-fashioned hard work.  If you are looking for the best and most professional workmanship possible, then look no further than Royal Masonry. Most tasks can be completed in a few days or a few hours or less and last for years.