Flagstone patios and walkways are popular in many parts of Ontario, including Guelph.  Read on to find out more about why flagstone is a popular choice for both patios and walkways, its advantages, and why we should be your first choice in flagstone repairs and installation. Contact Royal Masonry if you are planning any project involving flagstone.
Flagstone's Advantages
Flagstone Patios offer significant advantages over other types of patios like brick and concrete. Read our post entitled "Flagstone vs Stamped Concrete vs Patio-Blocks vs Wood Patios" for more information about a variety of different materials you can use for patios and walkways.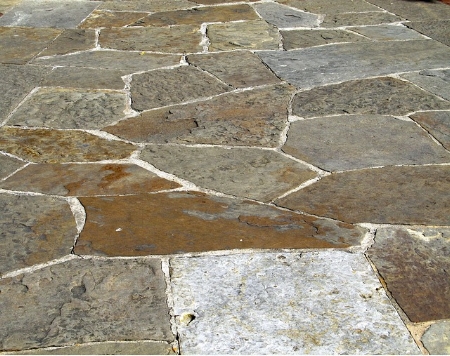 Durability, Slip Resistance, and Style
If you are looking for a combination of style, durability, flexibility, and visual appeal, they make an excellent choice. Flagstone is an extremely durable product that is strong, standing up well in the rugged Canadian climate. Due to its natural, uneven surface, it resists becoming slippery when wet, making it a wise choice for areas that experience a lot of traffic.
Pinterest – Farm Fresh Vintage Finds
Provides a Natural Look
Being a natural product, flagstone blends into the surrounding environment, It's rugged, slightly untamed appearance allows it to visually flow into the property, almost becoming a part of it. The wide variety of styles, colours, and prices available make it an attractive product for those wishing to add their personal style and flair at a reasonable price. For those seeking a product that will blend naturally into their property, flagstones are the best choice.
Pinterest – Omistonework.com
Flagstone Is Easy To Work With
Flagstone is a relatively easy product to work with during installation. Depending on the size of the project, most patios and walkways can be installed in a day or two. The product is very forgiving if installed correctly, blending well into most landscaped yards. This is partly due to the wide range of colours, sizes, and types that are available. These colour choices make it possible to match almost any colour scheme you have in mind.
We recommend that you check on the availability and pricing of flagstones in from your local supplier before you make any decisions. It is more expensive to use flagstone from other regions due to transportation costs and some colour choices may not be available in your area.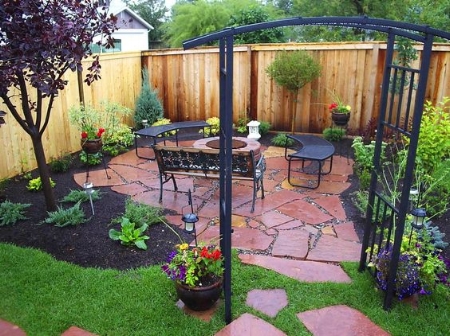 Pinterest – Michelle Biega
Why You Should Choose Royal Masonry
Why choose a professional stonemason to install your flagstone patio or walkway? Like all skilled tradesmen, stonemasons acquire their specific skill set during years of on the job training, apprenticeship and good old fashioned hard work. If you are looking for experts in the field, look no further than Royal Masonry. We have years of experience in the Guelph area and believe in providing the most professional workmanship possible – every time. Most tasks can be completed in a few days or a few hours or less, and last for years.