If you are considering purchasing flagstone for a backyard project, be sure to read on. Now is the perfect time of year to work on a backyard project, before the cold weather is upon us. In this post, we will discuss what flagstone is, including its benefits, how much it costs, tips on how to purchase it, how much you will need to build a wall or patio, and where to purchase it. If you are looking for a professional stone mason in the Kitchener-Waterloo area to install your flagstone, contact the experts at Royal Masonry.
What Is Flagstone?
Flagstone is a sedimentary rock which is usually made up of feldspar and quartz. Flagstone is perfect for paving walkways, steps, and patios because it splits well along the plane, is highly durable, and is beautiful to look at.
Benefits of Flagstone
There are many benefits to flagstone, including the following:
It performs very well in a wide variety of climates
It is extremely durable
It is unlikely to crack or wrap
It has better grip than other surfaces in icy weather
If it is properly installed, water will drain through the joints instead of pooling or flowing to the outer edges of the fixture.
It resists termites and other insects
It is easy to work with and is readily available
Flagstone Choices
Flagstone comes in a wide variety of colours, textures, styles, and shapes to give you many interesting and beautiful design options.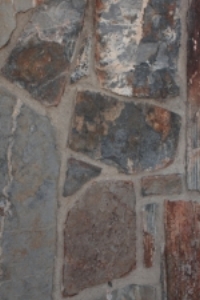 How Much Does Flagstone Cost?
The price of flagstone will vary depending on a number of factors, including:
Availability
Transportation costs
Variability of the stone
Whether it is cut or uncut
Generally, the price of flagstone will range anywhere from $3.90 to $11.00 per square foot, according to Blackwell Masonry. If you add in the cost of installation, then the price will probably be around $15 to $30 per square foot.
Tips on Purchasing Flagstone
1. Inspect the pallets before you purchase them: Look for the most consistency in the pieces. You want stones with 2 relatively flat surfaces and clean edges. If you are making a patio, it's best to have stones of the same thickness; if you are constructing a wall a variety of thicknesses is better.
2. Ask about the return policy: A good supplier will take back the unbroken stones that you haven't used.
3. Wastage of 5% to 10% is normal: According to Dream Yard.com, when you are dealing with natural stone, you will have pieces that are unusable. Try to find creative ways to in incorporate these in other locations in your garden.
How Much Do I Need to Build a Wall?

On average, 1 ton of stone will give you approximately 30 to 35 square ft. of wall facing, according to Dream-yard.com. If you are building a wall, you can use this formula to determine the size of your wall:
(wall length X wall height)  +  (wall length X wall width)  = wall cubic feet
Next, divide your cubic feet by 35 to determine how many tons of stone you will need.
For example, if you wall is 20 ft. long, 3 ft. high, and 1 ft. wide your calculation would be this:
(20 ft. X 3 ft.) + (20 ft. X 1 ft.) = 60 + 20 = 80 cubic ft.
80 cubic ft. divided by 35 = 2.3 tons
Therefore, you would need 2.3 tons of flagstone for a wall of the above proportions.
How Much Do I Need for a Patio?
Two inch flagstones are most widely used to construct patios and walkways. If you have a lot of stones that are only 1 3/4 " or are 2 1/4″, the difference in thickness can really throw off your estimates. Generally, when a quarry puts a pallet together for patios, they try to have no more than 1/4″ difference in the thicknesses. Usually, one ton of 2″ thick flagstones should cover about 70 to 80 square feet of patio, according to Dream-Yard.com.
Where Can I Purchase Flagstone?
There are a number of locations where you can purchase flagstone in the Kitchener-Waterloo area. These include:
Grand River Natural Stone Ltd.
177 Hayward Ave.
Kitchener, ON N2C 2E5
Adams Landscape Supply
30 Dumart Place
Kitchener, ON
226-243-3609
At Royal Masonry we are your flagstone experts. Whether you are installing a new patio, retaining wall, or stairway, we can do the job for you with the highest quality workmanship and attention to detail. Our prices are also competitive and we always do the job right, the first time. Contact us today for all of your masonry projects.