Trying to figure out the best material to use on your patio? We look at the pros and cons of Flagstone, Stamped Concrete, Patio Blocks, and Wood. If you are planning to build or redesign a patio and are trying to choose between Flagstone, stamped concrete, patio blocks and wood, then at Royal Masonry we are prepared to assist you in your decision making process. There are distinct advantages and disadvantages to each of these products that will become evident when they are compared to one another. Besides considering cost, ease of installation and personal preference, you should consider how well your choice will blend with your property and perhaps even that of your neighbours, depending on their proximity. Contact us at Royal Masonry if you are considering building a new patio or redesigning an existing one. We will be happy to assist you with every step in the process.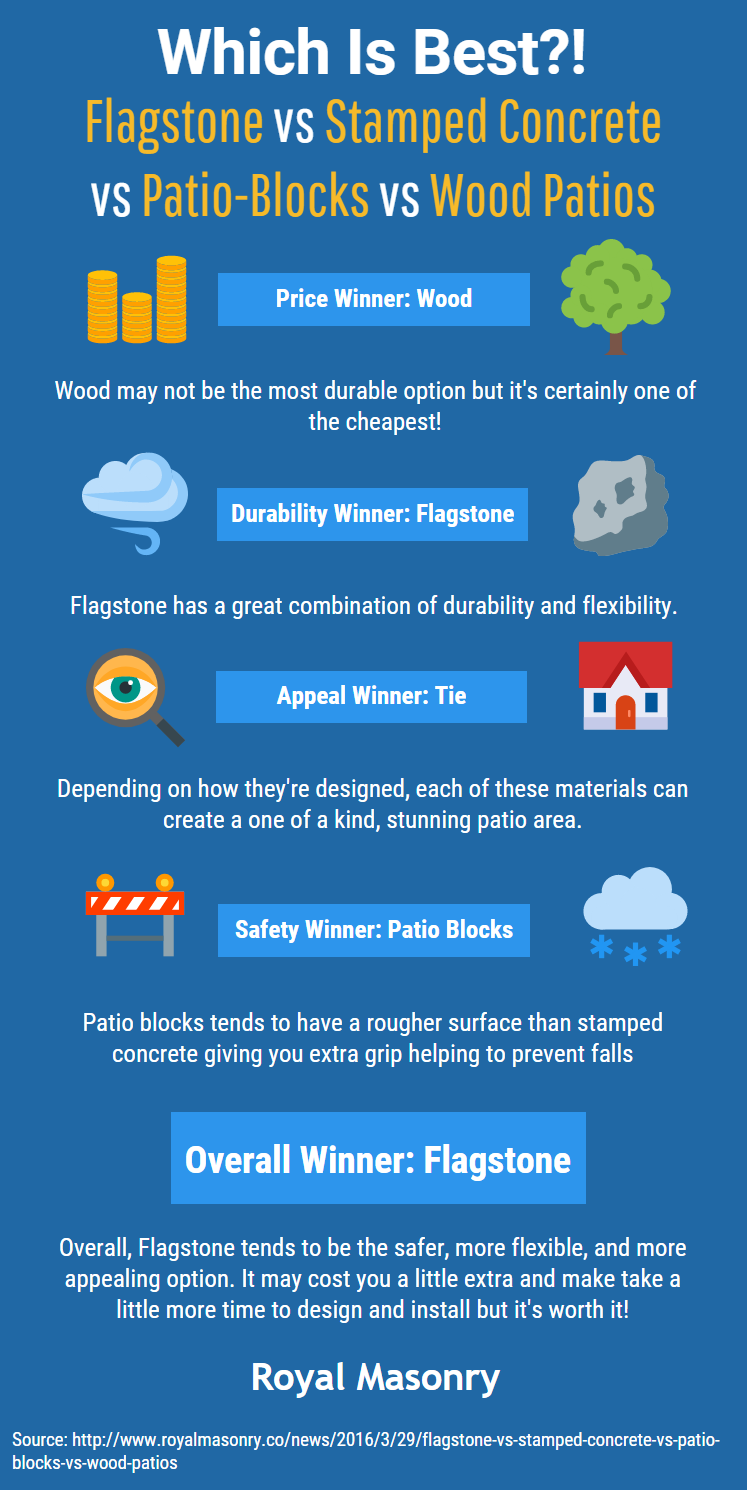 Wood Patio
Wooden patios are less expensive than stone or block but they will require more maintenance and are less durable. These types of patios are a popular chose for those who wish to retain a natural look without resorting to the harshness of stone.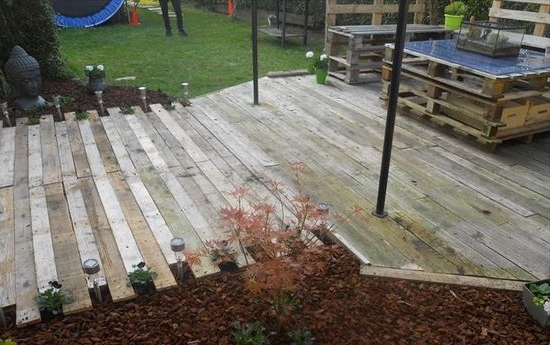 Wooden pallet deck from Pinterest
These types of patios work best if they are partially raised off the floor by the use of supports. Concrete posts or blocks provide an appropriate foundation but it is vital that the base be level.
A wooden patio or low deck is relatively easy to install. Most can be installed in a few days or less, depending on the complexity of the project. If you plan on doing a wooden deck and need some ideas check out this list of 100+ wooden deck ideas!
Patio Blocks
In order to install a patio designed from patio blocks the ground must be level. Professional installers will generally use levelling sand, gravel or pea stone to create a solid, durable foundation before they lay a single block. If the ground is already prepared, a team of installers can often lay a basic block patio in a couple of days or less.
Patio block design from Pinterest
Low cost and the extremely flexible nature of patio blocks make them one of the all-time most popular patio design products. Intricate and complex patterns can be made by using a variety of block shapes and colours, adding appeal for those who want a unique design for their patio.
A major disadvantage of patio blocks is that they tend to become uneven over time.  This can take place due to water or frost damage. Animals and insects burrowing underneath can also create havoc. Patio blocks do have the advantage of being easily replaced by the property owner if they become cracked, broken or otherwise damaged. With this in mind, it is always wise to order more than you need for the design you have in mind. If you're looking for some great patio block ideas check out these ideas on Pinterest.
Stamped Concrete
Stamped concrete is created by pouring concrete pads which are then "stamped" with a variety of designs. This gives the patio the appearance of being constructed from patio blocks or stones. Always hire a professional if you are planning to install a stamped patio as the ground must be completely level before the concrete is poured.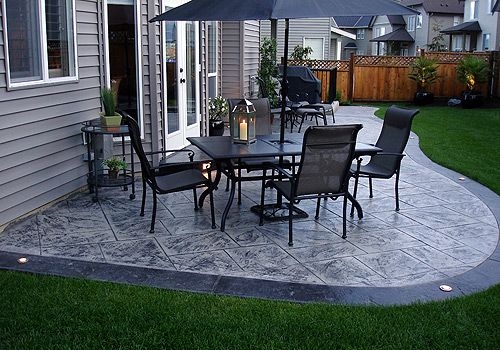 Stamped concrete patio from Pinterest
Concrete is durable but does require maintenance. It must be sealed every year. It can also be quite slippery when it becomes wet. Furthermore, it can be damaged by the salt that Canadian homeowners usually have to apply multiple times during a typical Canadian winter. Stamped concrete's greatest advantage is that it can be formed or "stamped" in a wide variety of shapes and colours, making it popular for those who want an attractive, eye appealing surface but don't want the expense of brick or stone.
Flagstone Patios
Flagstone Patios are an excellent choice for those who are looking for a combination of style, durability, flexibility and eye-catching appeal. It is an extremely durable product that resists the ravages of time and the Canadian climate very well. Due to its natural, uneven surface, it resists becoming slippery when wet.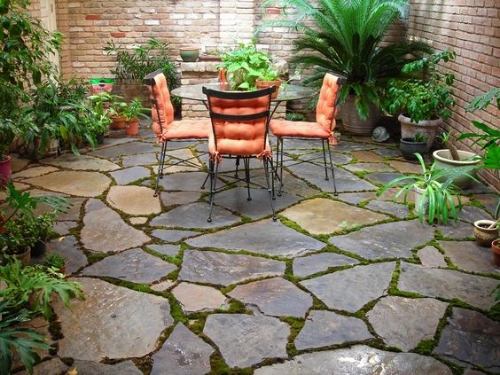 Flagstone Patio from Pinterest
One of the key advantages of flagstone is that it blends into any landscape, appearing to be part of the property rather than an addition to it. Furthermore, as the product comes in a wide variety of styles, colours and prices, it can be a relatively inexpensive choice. For those seeking a product that will integrated seamlessly into their property, flagstones are the best choice.
The Royal Masonry Advantage
The Royal Masonry team are professional stonemason's who have years of experience providing advice, installing, repairing and maintaining the brick and stone elements of properties. We have expertise in Heritage properties in addition to commercial, residential and institutional properties. Our many satisfied customers have been impressed with our high level of service and the superior quality of our craftsmanship. To experience the Royal Masonry advantage, contact us today.
Sources:
Ask Mike Holmes: Is Stamped Concrete Durable?
The Differences Between Flagstone Patios And Concrete Patios