Over and above our more traditional brick and stonework, we are proud to offer flagstone walkway installation. When planning a new walkway, you may consider a number of different building materials. Listed below we provide some advantages of flagstone walkways, and how they might suit your property.  We will discuss their attractiveness, durability, slip resistance, added value, flexibility and ease of use, Call us if you are planning a flagstone walkway.
CLICK HERE TO CONTACT US TODAY
An Attractive Landscape Element
Flagstone can be a marvellous addition to your landscaping project. The stone is flexible and durable, making it ideal for walkways. Flagstone has a rough- hewn rustic look that is particularly attractive when weaving its way through a professionally designed landscape as a walkway. You can be certain that if you use flagstone, your walkway will stand out from the other walkways in your neighbourhood. This is because every flagstone walkway is unique, just as every flagstone is unique.
Easy To Work With
Your flagstone walkway installer will find the product easy to work with. Most walkways can be installed in a day or two. Also, the product is forgiving if installed correctly, and blends well with most landscapes. This is due to its wide range of colours and types which makes it suitable for blending with almost any landscaping colour scheme. Before you make any decisions, check on the availability and pricing of flagstones in your area. It is more expensive to use flagstone from other regions due to transportation costs.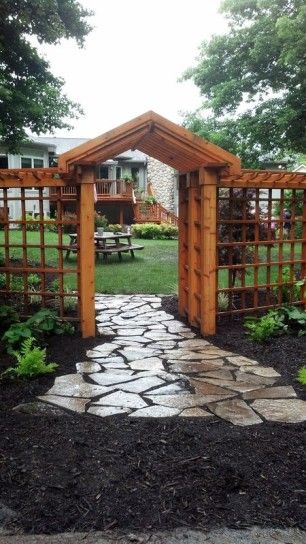 Saved from www.twowomenandahoe.com
Has Great Durability
Flagstone is a very durable product. The product copes well in high traffic areas like walkways and patios meaning that you can expect your new walkway to last a very long time. This also makes it a wise investment. In order to ensure that your walkway is installed professionally, contact an experienced stonemason. The surface should be properly prepared, with a foundation of sand and or gravel to provide a stable and smooth working surface.
Slip Resistant
It is important that you, your family, and guests can feel safe walking on your walkway. Some products are prone to being slippery if wet. However, the varied surface of flagstone means that it is less likely to cause those walking on it to slip.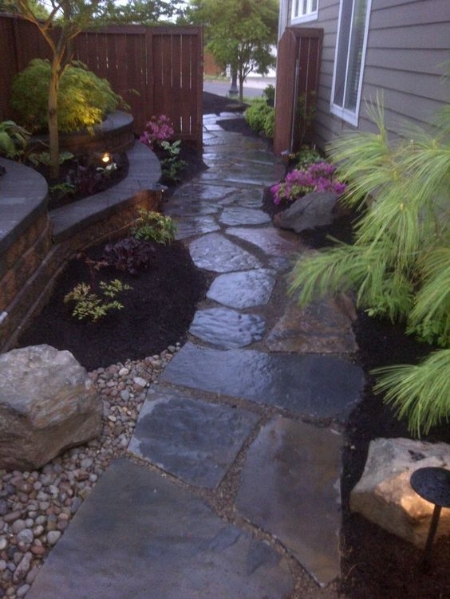 Pinned from www.diyandmag.com
Adds Value
Due to its durability and attractive appearance, a correctly installed flagstone walkway is sure to add value to your property. The product comes in a wide variety of prices depending on the quality of the stone, the source and the size of the project.
Royal Masonry
Why choose a professional stonemason to install your flagstone walkway? Similar to most experts in their field, stonemasons acquire their specific skill set over years of on the job training, apprenticeship, and good old fashioned hard work.  If you are looking for the best, and most professional workmanship possible, then look no further than Royal Masonry. Most tasks can be completed in a few days or a few hours or less.
Sources:
Advantages And Disadvantages Of Flagstone