If you are considering installing or replacing  flagstone walkways, read on to see our top 10 design ideas. Contact us at Royal Masonry if you are considering any type of brick, stone or concrete project on your property.
CLICK HERE TO CONTACT US TODAY
Flagstone Walkway Ideas
This list is intended to inspire you. While every landscaping project will be different due to the unique nature of the property, the goals, and the local materials available, there are always great ideas that are transferable. Have a look at the ideas and try to imagine how a similar concept might look in your yard, then call us and take the first step in turning your idea into reality. We can help you to recreate your unique version of any of these paths.
Number 1 – Curvy and Straight
Here is a flagstone walkway idea that blends the random edges of flagstone with clean brick edges. Try this to control the shape of your walkway.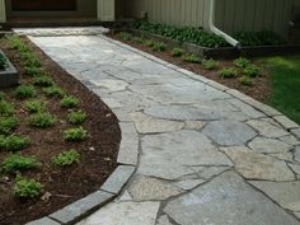 lowneyslandscaping.com
Number 2 – Windy Way
Check out this flagstone walkway that winds its way between flower beds and bushes. Consider creating a whimsical walkway like this to wow your guests.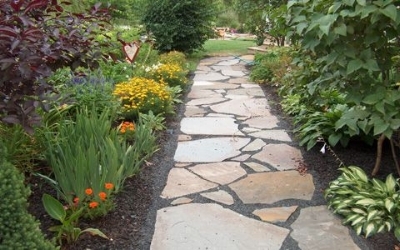 anthonylandscapes.com
Number 3 – Clean and Green
They say that some people always think that the grass is greener on the other side. We say, let the grass grow between the flagstones in your walkway to give a "wilder" and more natural appearance to your yard.
Number 4 – The Land Beyond
Let your pathway lead you to a land beyond a gateway! We don't know where this path goes but it looks good getting there!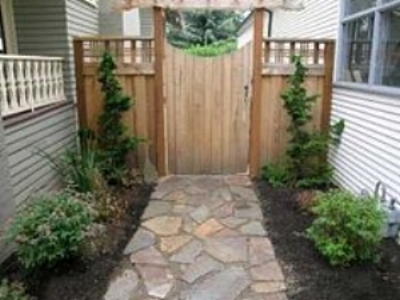 funwithplants.com
Number 5 – Circle Round
Flagstone walkways leading to a fire pit is fun and a great use of a larger yard. Consider creating an area where you and your guests can relax during those warm summer evenings.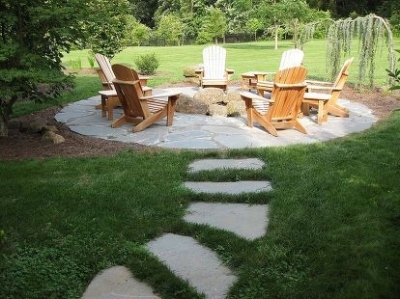 Hometalk
Number 6 – Brick a Brack
Mixing flagstone with brick allows you to create patterns that would not be possible with flagstone alone. Generate seemingly random patterns or something with a little structure to it – like this one.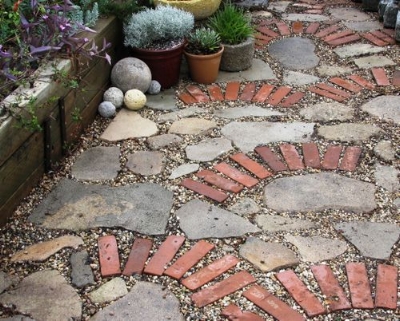 From the Los Angeles Times
Number 7 – Stairs and Slopes
Combining stairs with walkways makes a lot of sense for sloping or hilly properties. Dream up a combination of flagstone walkways and stairs like this one – but unique to your property.
hometone.com
Number 8 – Gravelly Garden
What if you don't like grass and have a small yard? Create a short flagstone walkway that travels through gravel. It's easy to maintain but offers much more than simple gravel.
WordPress.com
Number 9 – Fairies and Flagstones
Do you have some trees on your property? Design a fairy tale flagstone walkway that leads to a charming little stone bench like the one in this image. What if you don't like stone benches? Simple – add a garden swing or wooden bench instead.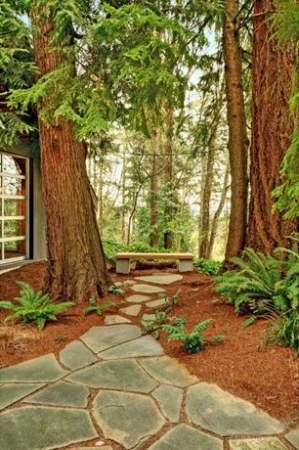 Zillow
Number 10 – Take A Walk On The Wildside
Impress your neighbours and add curb appeal to your property by connecting your flagstone walkway to the sidewalk. Add a few small plants to create visual interest and you have yourself a walkway that will have people talking while they are walking!
Leveridgelandscapedesign
Royal Masonry
Why is it best to choose a professional stonemason to install your flagstone patio? Like most experts in their field, stonemasons acquire their specific skill set over years of on the job training, apprenticeship, and good old-fashioned hard work.  Don't settle for amateur work when you can benefit from the most professional workmanship available – look no further than Royal Masonry. Most flagstone walkways can be completed in a few days or a few hours or less and last for years. Contact us to make your dream walkway a reality.