In this post, we will take a look at 5 brick patio ideas that would make great landscaping projects, and provide brief comments about them. The selection is intended to spark your inspiration by giving you some basic ideas that you may be able to adapt to your property. Contact us if you have a patio project in mind that requires a professional stonemason.
1   Brick Weave & Pattern
Brick can be used to create attractive and functional patterns on your patio. When planning your brick patio, consider both the colour of brick and the type of pattern you wish to see. The following picture from www.gardenista.com highlights a herringbone weave in red brick that also incorporates green elements as well as a fireplace.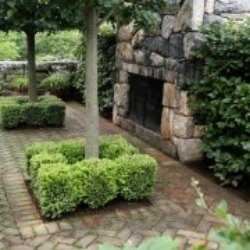 www.gardenista.com
2   Basket Weave Patio and Steps
This charming Beverly Hills patio begins at the doorway to the home in the form of brick steps. The steps flow into the brick patio creating an appealing and functional outdoor space. The dark brown basket weave brick pattern creates a solid, permanent feel and contrasts well with the white walls of the home.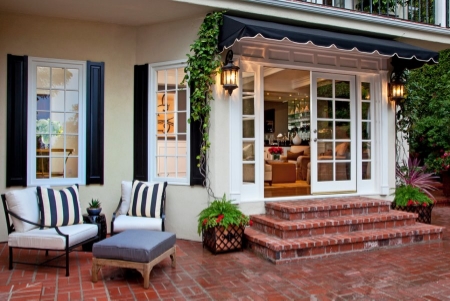 www.decoist.com
3   Brick, Timber, and Vegetation
Combine brick, timber, and plants to create a peaceful, shady summer hangout like the one pictured below from the landscapingnetwork.com. Perfect for those languid summer days and cool fall days when you want to relax with friends and family, this "running bond" pattern keeps things simple.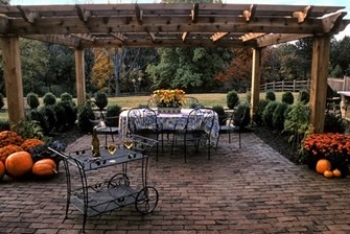 www.landscapingnetwork.com
4   Making Circles
Sometimes going around in circles can be a good thing. Check out this circular brick patio pattern from www.decoist.com. This example is ideal for a small city space, and the assorted brick colours add to the intrigue. However, circles can be blended into square and rectangular patios for variety and effect.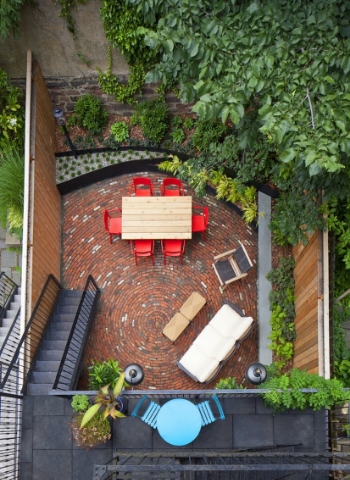 www.decoist.com
5   Red Brick Inlay Pattern
Enhance a simple red brick patio with an inlay pattern similar to this one from www.homestratosphere.com. Ideal for those who enjoy straight lines, pair it with a straight edged lawn for a clean look that is easy to maintain. Use contrasting brick colours for a more creative look.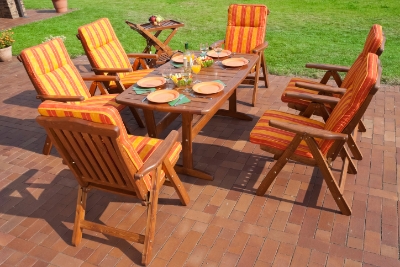 www.homestratosphere.com
Common Brick Patterns
Use the chart below to help you decide what type of pattern you would like to install in your patio. The chart displays some of the most common types of brick patterns.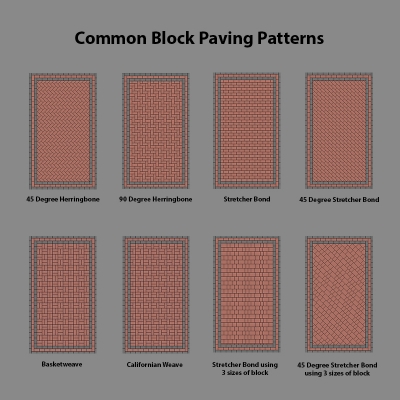 A Selection Of Brick Patterns
Royal Masonry
Royal Masonry specializes in building exceptional patios. Our experienced and capable team of professional stonemasons  provide our customers with the best workmanship possible and operate in the Kitchener – Waterloo area.  We believe in getting the job done right the first time and providing you with the royal treatment! Most projects can be completed in a few days or even a few hours or less.  Our renowned, quality service is guaranteed, and we always bring our professional approach to every job we tackle.