Would you like to add stunning backyard appeal to your property? Read on for a list of 5 flagstone projects which could transform a retaining wall, walkway, patio, front entrance, or staircase for enhanced visual appeal. These designs are sure to add immediate value to your home and make the neighbours sit up and take notice.  Contact the professionals at Royal Masonry today to discuss how we can help you get the curb appeal that you desire.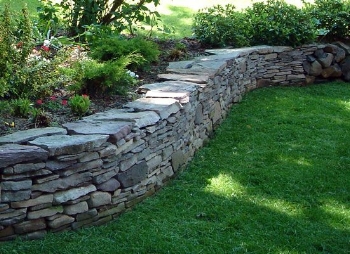 Image courtesy of Pinterest – originally pinned from bontool.com
1. Rustic Retaining Wall
This flowing retaining wall is the perfect accent to a front garden full of varied greenery and a hint of colour from blooming perennials. The rustic contoured flagstone wall is appealing to the eye and gives a balance of freedom and order to the lawn. If you would like a similar feature added to your garden, talk to the team at Royal Masonry about making it a reality.
Image courtesy of Pinterest.com
2. Winding Walkway
Take a pleasant stroll down this inviting winding walkway crafted from a mosaic of flagstone of varied shapes and sizes. Bordered by carefully placed upright stones, a similar walkway is sure to add immediate curb appeal to any home.
Image courtesy of Pinterest – originally pinned from The Creativity Exchange
3. Perfect Patio
Imagine yourself enjoying those long summer evenings relaxing out on your flagstone patio. It's open, carefree shape will help your forget the restrictions of your daily life.  Seated around the stone fire pit, the dancing flames will warm up the evening chill as the sun begins to set. If you have a similar project in mind, come to Royal Masonry and they will do the job for you.
Image courtesy of Pinterest originally pinned from twowomenandahoe.com
4. Intriguing Entrance
This unique entrance is inviting you to come in and explore the beautiful yard on the other side. The carefully placed flagstones beg you to take a step forward and journey under the wooden archway and between the trellises to discover a lovely well-kept garden.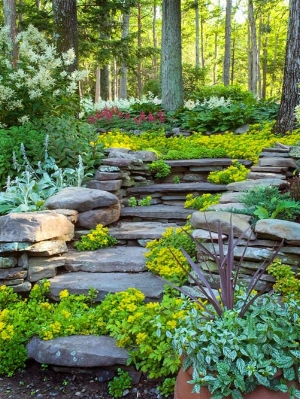 Image courtesy of Pinterest – originally pinned from bhg.com
5. Subtle Stairway
A sloped yard can become an asset rather than a liability when selling your home. This flagstone stairway is cleverly constructed to appear as if it were a natural part of the landscape.  It gently rises from the ground, seemingly lifted by the caressing plants surrounding each step and beckons you to come and explore the forest beyond.
Royal Masonry
Adding curb appeal to your property is as simple as bringing your idea to Royal Masonry where we will help you design and construct it.  "Our mission is to always provide you with the best workmanship possible, and get it right the first time. We guarantee that we will provide nothing less than top quality service, and bring a professional approach to every job we do. We will not be satisfied unless you are satisfied." Contact us at Royal Masonry to book a free estimate today.