Royal Masonry offer the top masonry landscaping services in the Kitchener- Waterloo, Cambridge and Guelph area. In this article, we will summarize some of the masonry landscaping services that we provide. The list includes retaining walls, planters, rockeries, garden walls, water fountains, wishing wells, ponds, fireplaces, and fire pits. If you are thinking about a landscaping project in stone, brick or block, don't hesitate to contact us at Royal Masonry.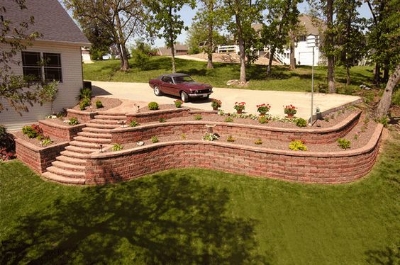 Retaining Walls
Retaining walls can be functional and fun, but they can be practical too. If any part of your yard is sloped or hilly we can help by adding a retaining wall. The retaining wall can prevent mud slides by holding back the soil, and, if built by expert stonemasons, do so for years to come. It can also provide an interesting landscaping feature with appropriate plants. Read about retaining walls here.
Wallstone – Including Planters, Rockeries, Garden Walls
Garden walls, planters, and rockeries are all features that can be built in stone. If you would like to create an attractive stone feature but don't know what might work in your property, considering surfing the internet to get ideas. The fieldstone wall in the picture below is from Better Homes & Gardens who say, "An undulating stone wall creates  a barrier while looking stylish at the same time." At Royal Masonry, we specialize in creating stylish and practical additions in fieldstone and more.
A Stone Wall Idea From Better Homes & Gardens.
Backyard Projects – Water Fountains, Wishing Wells, Ponds
Some backyard projects that can create an impression are water fountains, ponds, and wishing wells. Water adds tranquillity and creates a soothing atmosphere in a well-designed landscape. The picture below is from Sunset.com, noting "a shallow stream…cascades over a stone wall into a pool." Call us if you have any questions about adding water features to your property.
A Mission-Style Stream from Sunset.com .
Fireplaces & Fire Pits
Besides being a source of warmth, fireplaces and fire pits can provide visual appeal in a yard. Read our article entitled, "What Is The Difference Between An Outdoor Fireplace And An Outdoor Fire Pit?" Fieldstone and brick are excellent choices for creating fireplaces and fire pits. Our expert team of stonemasons can build your fireplaces and fire pits to your specifications.
Royal Masonry
Why choose a professional stonemason to carry out the latest brick or stone project for your property? Like all experts in their field, it takes stonemasons years of on the job training, apprenticeship, and good old-fashioned hard work, to acquire their specific skill set.  Our team are experts at designing and creating all kinds of outdoor living spaces. Don't try to cut corners –  if you are looking for the best workmanship possible in the Kitchener -Waterloo area, then look no further than Royal Masonry. Most brick and stone wall projects can be completed in a few days or even a few hours or less depending on the size, location and complexity of the work.