In this post, we will take a look at some of the masonry patio services that we provide with brief descriptions. This includes brick and stone patios, walls, BBQ islands, steps, fire pits, and flagstone walkways. Call us if you have a patio project that requires a professional stonemason.
Brick & Stone Patios
Brick and stone patios can considerably augment your summer living space. If done well, they can be not only functional but attractive. Both brick and stone make excellent choices as patio materials as they are relatively easy to lay, durable, and can be adapted to fit almost any space. Because of the variety of types of brick and stone available, patios can be laid to suit your particular design preferences, while being stylistically unique.
Stone walls incorporating a fireplace at findoo.net on Pinterest.
Walls
Walls can be an excellent addition to a patio. They can provide shelter and privacy, function as retaining walls or simply be a decorative element in a well-landscaped yard. Walls can be built with a variety of materials including bricks, stone, flagstone, and concrete blocks. Your personal preference and budget will assist you in making the best decision for your home. Choose an experienced stonemason to ensure that your wall is all that you intend it to be. Read our article entitled "Which Are Better For Garden Walls – Brick Or Stone?"
Fire Pits and Fireplaces
Both fire pits and fireplaces are attractive options for homes in the Kitchener – Waterloo, Cambridge, and Guelph areas. Both have their advantages and disadvantages. If you are considering installing one, you should read our post entitled, "What Is The Difference Between An Outdoor Fireplace And An Outdoor Fire Pit." If you are still unsure which best suits your needs, contact us.
BBQ Islands And Outdoor Kitchens
If you want to wow your neighbours and friends, consider building a brick or stone BBQ island or outdoor kitchen. Design shapes and styles are limited only by your imagination, and a well planned and executed design can be the focal point of your backyard. Brick and stone BBQ's are durable, can increase your overall cooking area, provide extra storage space, and flow seamlessly into your patio. Contact us for a free estimate.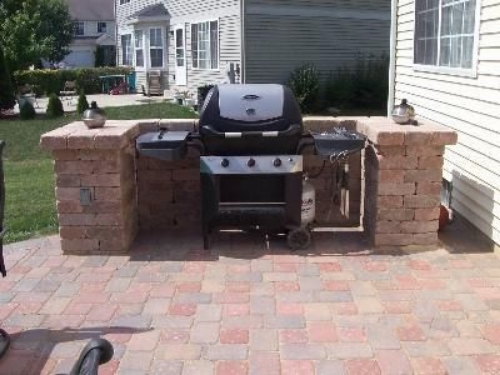 Here's a straightforward brick BBQ design from Archadeck.
Patio Walkways
Patio walkways in brick, block, or flagstone can connect your patio with other features in your yard. They can be designed with rigid lines and pure functionality, or they can add interest and mystery as they wind their way to other areas of your property.
An attractive set of semi-circular steps from Clarke Landscapes on Pinterest.
Steps
Brick or flagstone steps can provide access to your kitchen from your patio, or lead to other areas of your yard.  Brick and stone step building is a skill requiring professional expertise, so don't entrust the job to an amateur if you are hoping for perfect results the first time. Call a professional stonemason.
Royal Masonry
Patios are a specialty of Royal Masonry. Our team of professional stonemasons, whose mission is to provide our customers with the best workmanship possible, operates in the Kitchener – Waterloo area.  We believe in providing you with the royal treatment! Most projects can be completed in a few days or even a few hours or less, while getting the job done right the first time.  Our renowned, quality service is guaranteed and we always bring our professional approach to every job we tackle.