Designs with stone can be made into anything from secluded patio hideaways to romantic rustic walkways. Read on for a list of 6 sensational designs with stones ranging from those perfect for very small spaces to the much more elaborate for those who have room to spare.  Contact us at Royal Masonry to discuss stone design ideas for your property.
Image courtesy of Pinterest.com – originally pinned from froeberland.com
1. Whimsical Waterfalls
Not one but three waterfalls cascade into this inviting backyard pond. Beautiful flagstones are used to create each of the falls while cleverly placed foliage and stones add to the whimsical atmosphere. Be lulled to sleep in your hidden oasis by the soothing sound of trickling water. If this is your vision for your backyard, contact the stonemasons at Royal Masonry and begin to make your vision a reality.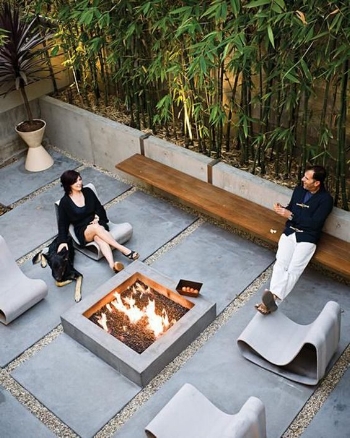 Image courtesy of Pinterest – originally pinned from homemydesign.com
2. Illusion Of Space
Feeling constrained by a small backyard? By using large paving stones and adding a sultry stone fireplace, you can transform even the tiniest space into the perfect retreat from the pressures of a hard day at work. Sit back and enjoy the solitude on this perfect patio hideaway.
 Image courtesy of Pinterest – originally pinned from an article by Dan Ashbach / Dan330
3. Big, Bold And Beautiful
Bigger is definitely better in this stone design staircase. The massive stone steps add character and depth to this inviting terraced stairway. This unique design is the perfect solution for a sloped landscape. It provides an interesting focal point and setting for the surrounding cascading foliage. The experts at Royal Masonry can design and construct a similar staircase for your backyard. Contact us today for a free quote.
Image courtesy of Pinterest.com – originally pinned from Dogs of War
4. Blown Away By Flagstone
If you like kicking your shoes off and walking around barefoot in the summer, you'll love the sensation of flagstone on your toes. Not only does it feel good, it looks amazing and is incredibly durable.  The irregular shapes of the stones are pleasing to the eye and they perfectly complement the rustic beauty of the surrounding brick wall and foliage.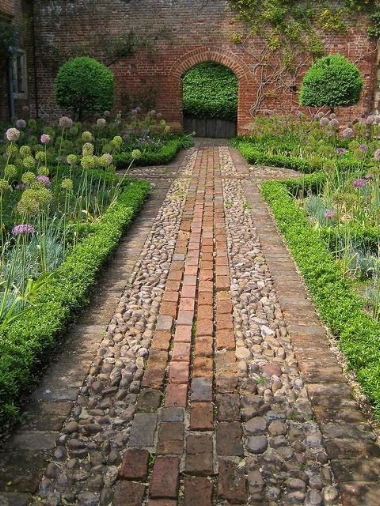 Image courtesy of Pinterest.com – originally pinned from nationaltrust.org.uk
5. Take A Walk Back In Time
If you relish the thought of being swept away into a simpler time, take a walk down this stone and brick path.  Let yourself be led through the perennial gardens under an ancient brick archway reminiscent of days gone by. Let the professionals at Royal Masonry help you to recreate a piece of history right in your own backyard.
Image courtesy of Pinterest.com – originally pinned from outdoorhomedecor.site
6. Driveway Dazzler
You'll be amazed at what a difference a bit of life and colour can add to an ordinary driveway. By using a pattern of concrete pavers, you can turn what was once a functional tarmacked eyesore into a stunning and eye-catching feature which will definitely add curb appeal to your home.
Royal Masonry
The team of professional stonemasons at Royal Masonry have been building all manner of stone, brick, and concrete creations in the Kitchener – Waterloo, Cambridge, and Guelph areas for years. They pride themselves on their exceptional customer service and the highest quality finished designs.  Bring us your ideas and we will bring you our experience and expertise. Contact us at Royal Masonry to make your design a reality!