We've searched the Internet and have come up with 7 stunning retaining wall ideas. The Kitchener – Waterloo region tends to be rather hilly and not very flat.  Retaining walls are therefore a very beneficial and great design feature for the sloped landscapes of this area. They beautifully prevent soil erosion and can also provide you with extra usable living, entertainment and gardening space. The professional stone masons at Royal Masonry are retaining wall experts. If you would like to install a beautiful, long-lasting retaining wall, contact the experts at Royal Masonry today.
1. Triple Tiered Transformation
Image Source: Pinterest from Newlinehardscapes
We love the three tiered effect of this wonderful retaining wall design found on Pinterest from Newlinehardscapes. The beautifully curved lines of these retaining walls almost give you a flashback to a medieval round tower. They would be perfect for a previously unusable sloped yard as they effectively provide additional gardening space for your greenery and perennials.
2. Clean Lines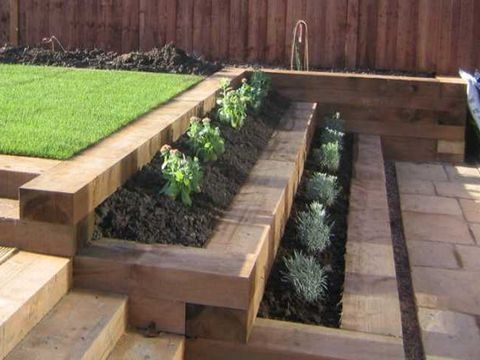 Image Source: Pinterest from google.com.au
This second design was found on Pinterest from google.com.au.  The clean lines of this retaining wall design will definitely appeal to anyone wanting a more modern or contemporary look to a slightly sloping backyard. The colours and choice of stonework are very sleek and smooth giving it a minimalist but very appealing aura.
3. Meet Me At The Fire Pit
Image Source: Pinterest from econstruck.gq
Who wouldn't want to join you for a cozy conversation and relaxing time around this fire pit? How clever this design is! It nestles a comfortable seating area right into the retaining wall and carries on the theme of the wall in the built-in fire pit. It also acts as a divider between the lower and higher levels of this back yard. We think that you could enjoy many summer evenings gathering with your friends in this welcoming spot. We found this gem on Pinterest from econstruck.gq.
4. It Keeps Going and Going and Going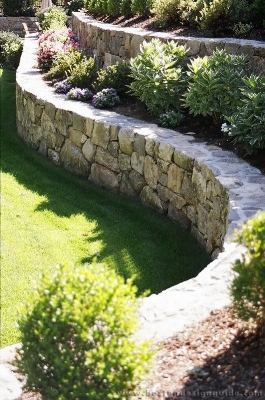 Image Source: Pinterest from gardeninggo.com
Just like the Energizer Bunny, this beautiful retaining wall at the base of a rather steep incline, just seems to keep going and going. It curves beautifully around the outskirts of this large garden and make a interesting and eye-catching border. We love how the two tiered walls provide lots of extra gardening space. This lovely design we also found on Pinterest from gardeninggo.com.
5. The Boulder And The Beautiful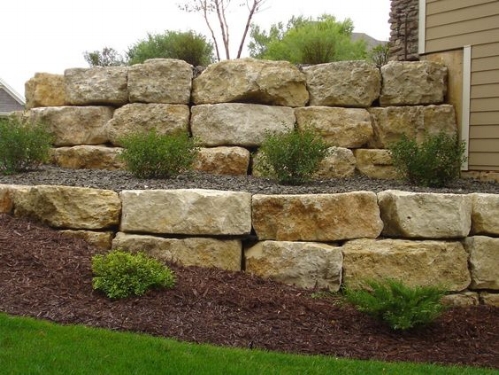 Image Source: Pinterest from thelandscapestoremn.com
Why not go big and bold? This design found on Pinterest from thelandscapestoremn.com isn't afraid to make a grand statement using oversized boulders to construct this retaining wall which beautifully and securely holds back the soil of this rather steep drop. We also like how the strategically placed bushes effectively soften and add contrasting colours to this forceful design.
6. Upstairs Downstairs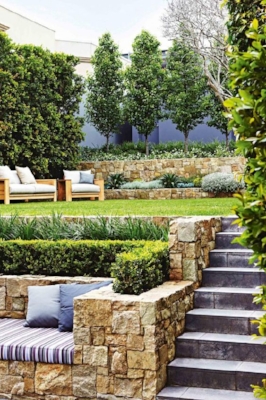 Image Source: Pinterest from landscapegenius.com
This next design was taken at Pinterest from landscapegenius.com. The clever layout gives you a feeling of actually being inside a building and looking at two floors. The beautiful contrasting colours of the slate stairs and earthy stone walls are a great choice, especially when the added seat cushions help to bring out the blue tones in the stairs. The cool atmosphere created is rather inviting and is sure to be a pleasant addition to your backyard.
7. Water Water Everywhere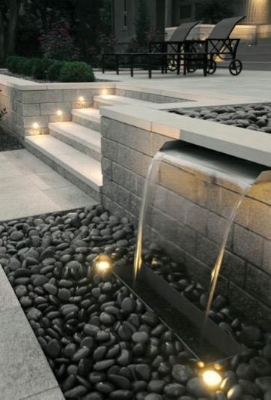 Image Source: Pinterest from cleverybody.com
Well, the water isn't exactly everywhere in the above design but it definitely is in the right place. This sleek and modern waterfall appears to be escaping from underneath the upper patio like a hidden underground spring. We love how it falls, not into a pool of water but instead into a pool of smooth and sexy black stones. This retaining wall exemplifies class. We found this final design on Pinterest from cleverybody.com.
Royal Masonry: Your Retaining Wall Experts
Whether you need a simple and small retaining wall or a longer more complicated design, you can trust the expert stone masons at Royal Masonry to do the job with the greatest skill and expertise. We use the best materials and take extra care to do the job right the first time to ensure that your masonry work never falls apart in your lifetime, and lasts for generations to come.  You can trust us with your next project. Contact us today and find out why we are the Kitchener-Waterloo regions number one choice for stone masonry work.